In Victoria, Waterwatch volunteers monitor over 1000 sites statewide, with about 100 sites in the Melbourne Water area, greatly supplementing the authorities' own monitoring sites. The aims are stream quality management by reporting and by public involvement and awareness.

Since its inception in June 2004, the FSCVR Waterwatch group has actively monitored the health of Scotchmans Creek in the vicinity of the Mount Waverley Wetlands. The group's monthly reports are viewable below. The DSE database of all Victorian Waterwatch sites (accessible via the Melbourne Water – Waterwatch web page) contains our more recent data.

The FSCVR group now visits 4 sites each month and measures physical and chemical properties, surveys the aquatic invertebrate population, and assesses the watercourse wildlife habitat quality. The group consists of FSCVR members and other interested people.

If you have an interest in the health of Scotchmans Creek or are studying environmental science, you would be welcome to contact us and arrange to participate in the field sessions. We also welcome school groups on special visits, usually combining their visits with information excursions along the creeks or in Valley Reserve.

The FSCVR group is supported with training and equipment by Melbourne Water and City of Monash.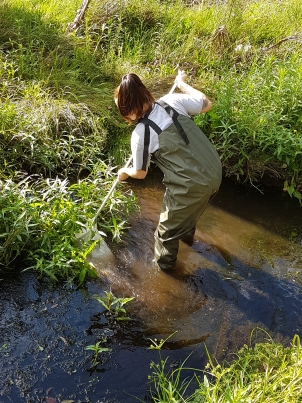 Sampling for bugs 21 Jan 2018